Asalamu Alaykom,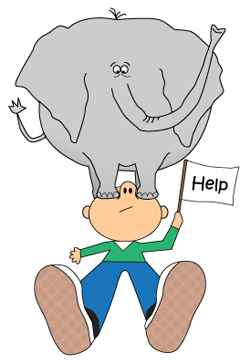 After having life go very badly, life is going well now.
Why?
After hardship, there is ease.
Life in the family house took a sudden turn for the worse. After two years of living with a difficult woman, there was a full-scale manipulation to make our life miserable. This is often the only way an Egyptian woman can feel powerful. Astragferallah.
This wouldn't be the only time this has ever happened to me. If you look back, you'll see that Abu El-Kid's first/current wife already put me through my paces. At the time, I thought it was unique to only her, but I've come to see that it's part of this patriarchal culture for jealous women to play mind games since men hold all the cards.
Alhumdulillah for those life lessons that you fail and then Allah gives you another chance to pass.
I swear to God, if you are ever in the unenviable position to lock horns with an Egyptian woman, walk away---no, RUN AWAY. You will not win. You won't! They battle to the death for what they want and they battle in ways you wouldn't ever dream of. They rope everyone into their game and they spend all their energy on this fitnah. In the end, you
will
be the loser so it's better to just let them have their dunya and hope that you have akhirah.
Now, my husband and I are starting our lives over as an independent unit. We used to do so much with the family and for the family but in October that all changed. We are now living in a family house without living communally.
One of the reasons I wanted to marry my husband is that I liked his large family. Ironically, I am not really part of their lives at this time. Growing up, I was the only child of a single mom and I always craved a family. After the twists and turns we've been through, I am cured from this craving. Alhumdulillah.
Eating dinner together means just the three of us. My husband and I take turns cooking. We not only spend more time cooking and cleaning up, we spend more money on food than we used to. Yet, there are great rewards.
We are healthier. Alhumdulillah. After many attempts to get the ladies of the house to cook with less salt, oil, and sugar, we can simply cook to please ourselves. It's been two months and we have all lost weight. I feel better. I look better.
We are at peace. Alhumdulillah. There was always so much friction downstairs with yelling moms and screaming kids, snubbing, and teasing. The noise and upset used to make my stomach ache from all the conflict. Now, we can just relax.
We are more united. Alhumdulillah. One of the after effects of pulling away from others is that we are more committed to making our own little family successful. It wasn't an immediate result. In the beginning, when my husband was losing his mind, I honestly looked into moving out to stay sane. Instead, after praying istakarrah, I stayed put.
We then both talked of moving out together---of getting out of this home that was causing us so much grief. I then remembered Dr. Phil (whose name makes my husband laugh because in Arabic it translates to Dr. Elephant).
Dr. Phil said to get out of problems by doing the next smallest step not the biggest leap.
For me, I rationalized that this is our apartment that we've been piecing together for the last six years. It is our home. If we used our energy to search for a new place, then move and start again, we would not be able to continue building our lives. We would be going backwards not forwards.
The smallest step was to pretend that we moved into a new apartment surrounded by strangers---the very same apartment we've been in since 2010. Thus, we have a new life in our old place. We can continue to grow together, grow our boy and grow in our faith. Alhumdulillah.
Is it awkward? At times. There is an uneasy truce. There was a psychological war fought against us and we lost. I apologized for whatever I could and then I walked away. However, I am a big fan of seeing the big picture. In the long run, that victory will be inshahallah
Pyrrhic
. I have patience and my life goals go far into the future so that painful time in the past is no long my focus.
Why share this?
Back in the States, there was a Muslim sister that I loved very much. She and I both shared our plans of that day when we would make hijrah---she to Morocco and me to Egypt. After I left for Egypt, I received news that she had left everything to join her husband's family. Later, I found out that she had quickly returned to the U.S. She told me that she couldn't handle it. She had almost lost her mind living with them.
It's not easy. Communal living and multi-cultural family relationships are fraught with issues.
This sister didn't feel that she could be open and honest with me. The fact that I was still on hijrah while she was not drove a wedge between us. She felt like she had failed---not just living in a foreign country, or living with her husband's family but failed part of her faith. She stopped being my friend because she felt we could no longer understand each other.
I understand. I really do.
Whether she reads this or someone like her reads this, it's for the benefit of sisters who make such a big move and then face a shock. Whatever you are clinging to in the dunya will be your downfall. For me, it was family. That's a big one for Americans of my era because many of our families were fractured.
Remember the big picture. Remember your life goals and not just trying to get through this day or this week. Don't let someone else crash your future. At the same time, surrender whatever is not really important. Whatever you lose, let it go (let it go) and trust that it was no longer yours to have. God will give you better. Really.
Say "Alhumdulillah" for whatever remains and build from those remains a better, stronger life.