Asalamu Alaykom,
This originally appeared in 2008. I've edited it a little and reposted it in hopes that it will be helpful.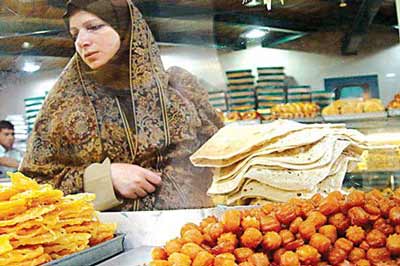 Did you buy your

dates

?

If you have small children, buy the pitted ones to be safe. Breaking your fast with dates is sunnah. The sugar in dates is what gave Mary (ra), mother of Isa/Jesus (pbuh) the energy to go through her labor alone. It is a wonderful food from Allah Subhana Wa Tala.

I also recommend buying a thick

fruit juice

like the apricot, mango or guava. All of these are thirst-quenchers of the highest degree.

Also on your shopping list should be foods for the suhour, or morning meal:



A fiber-rich cereal

like Bran Flakes, Cream of Wheat (high in iron), oatmeal, or Quaker's Oatmeal Squares. Oatmeal can be sprinkled over any of the other cereals to give it extra nutrition.



Whole wheat or rye bread

. Do NOT be eating white bread to start your day.



Eggs

which you can hard boil the day before or scramble up quickly.

Beans like Foul Medamnes; fava beans or Hummus; chick peas--these stay with you until around 3 PM



Olive oil



Cheese

but be careful it isn't too strong as the taste would stay with you all day





Fresh fruit

like bananas, apples, melon, or other fibrous fruit. Great to make a smoothie with fresh fruit, yogurt, water and some powdered juice mix. I sprinkle oatmeal in my smoothies too!

Tea





Yogurt

--make sure it doesn't contain gelatin

Vegetables

like cucumber and tomato you can eat diced up with plain yogurt or in soft cheese
For your iftar dinner, you'll want something nutrious. Even if you love fast-food or the easiness of processed/packaged food, you will not want it during Ramadan. Find ways to cook natural foods in simple ways.
Squash Soup,
Orzo Soup
Peas and Carrots with Potatoes
Bread with Tahini
Mashed potatoes
Stuffed vegetables
Roasted Chicken
Jello---only bought at a halal market as all other Jello has pork gelatin


There is a du'a for repetance which we all could benefit from stating again and again. Remember, that we need to ask for forgiveness from Allah for those deeds we KNOW we committed and those we do NOT KNOW we committed.
Keep in mind that these food items should NOT be your focus. The real focus is on strengthening our relationship with Allah. So, while it's good to be prepared with food in your cupboard it's more important to be prepared with kareem in your heart.
From http://www.islamonline.net/ :

The best dua for seeking repentance as explicitly stated in authentic traditions is called sayyid al-istighfaar; here it is:
Allaahumma anta rabbee laa ilaaha
illaa anta khalaqtanee wa ana
`abduka wa ana `alaa `ahdika wa wa`dika
ma ista`tu a`oodhu bika min sharri
maa sana`tu aboo'u laka bi ni`matika `alayya
wa aboo'u bi dhanbee fa ighfir lee f
a innahu laa yaghfiru al-dhunooba illaa anta
(O Allah, You are my Lord;
You created me and I am Your servant;
I stand by my covenant and promise
with You to the best of my ability.
I seek refuge in You from the evils of my own actions;
I acknowledge Your favors upon me;
I confess my sins to You;
so forgive me, for no one can forgive sins except You.)
After having read this, you may read any other duas.